Posts for tag: braces
By George Mui, DDS, Ltd. Gentle Dental Care
November 30, 2016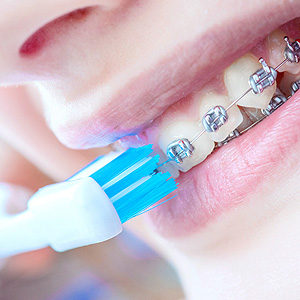 Orthodontic treatment is a big investment. But given the benefits for future good health and a more attractive smile, it's well worth it.
In the here and now, though, braces wearers face a different threat to their dental well-being — dental disease. Wearing braces can actually increase the risk of disease and make it more difficult to fight.
Tooth decay and periodontal (gum) disease, the two most common forms of dental disease, usually arise from plaque, a thin film of bacteria and food particles on tooth surfaces. The bacteria produce acid, which erodes enamel and makes the teeth susceptible to decay. Certain bacteria can also infect the gums and eventually weaken their attachment to teeth. Thorough brushing and flossing everyday removes this disease-triggering plaque buildup.
But braces' hardware can make brushing and flossing more difficult. The brackets attached to the teeth and wires laced through them make it more difficult for floss and brush bristles to access all the areas around the teeth. Plaque can build up in certain spots; it's estimated braces wearers have two to three times the plaque of a person not wearing braces. Acid can also remain in contact with some of the enamel surface for too long.
It's important, therefore, if you wear braces to make a concerted effort to brush and floss thoroughly. Besides improving technique and taking more time, you might also consider additional aids. You can obtain toothbrushes specially designed for use with braces, as well as floss holders or threaders that make it easier to access between teeth. Another flossing alternative is an oral irrigator that sprays water under pressure between teeth is an alternative to flossing.
As a precaution against acid damage, we can boost enamel protection with additional fluoride applied to your teeth. We may also prescribe antibacterial rinses to keep the bacteria population low.
Above all, be sure to look out for signs of disease like swollen or bleeding gums or pain. As soon as you sense something out of the ordinary, be sure and contact us.
If you would like more information on keeping your teeth disease-free while wearing braces, please contact us or schedule an appointment for a consultation. You can also learn more about this topic by reading the Dear Doctor magazine article "Caring for Teeth During Orthodontic Treatment."
By George Mui, DDS, Ltd. Gentle Dental Care
October 22, 2013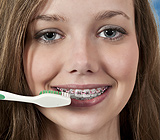 Taking care of your teeth is a lifetime commitment, if you want your teeth to last a lifetime. But it can be especially challenging if you're wearing traditional metal braces. With a little extra attention, though, you can reduce the risk of dental disease during orthodontic treatment.
The goal of oral hygiene is to remove biofilm, a layer of leftover food particles called plaque that is a haven for disease-causing bacteria. Orthodontic braces make access more difficult for performing oral hygiene. A little extra effort and attention, though, can make a big difference.
First, be sure you're eating a healthy diet and avoiding unhealthy snacks (especially those high in carbohydrates) between meals; this will discourage the growth of bacteria in the mouth. You should also limit your intake of sodas, sports or energy drinks since their high acidity contributes to tooth enamel erosion.
Although more difficult for someone wearing braces, brushing is still essential to good hygiene. Begin by holding a soft, multi-tufted bristle brush at a 45-degree angle, and then brush the surface area between the gum and the braces all the way around. Return to your starting point and brush the area from the braces to the edge of the top of the teeth in the same direction. Be sure you do this for both the upper and lower jaw and on both the cheek and tongue side.
Flossing is also more difficult, but not impossible. Instead of conventional floss thread, you can use special floss threaders, small interdential brushes, or an irrigation device that sprays pressurized water to remove food particles between teeth.
Above all, it's important to keep up regular office visits with us. In addition to monitoring overall dental health, we can also apply or recommend additional fluoride products to help strengthen teeth or prescribe antibacterial rinses to reduce the mouth's bacterial level.
Keeping up a good daily hygiene regimen and regular checkups will ensure that the smile you gain from wearing braces is healthy as well as beautiful.
If you would like more information on oral hygiene while undergoing orthodontic treatment, please contact us or schedule an appointment for a consultation. You can also learn more about this topic by reading the Dear Doctor magazine article "Caring for Teeth During Orthodontic Treatment."
By George Mui, DDS, Ltd. Gentle Dental Care
May 21, 2012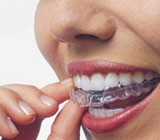 If you are dissatisfied with the way your smile looks, and your dentist is unhappy with the way your teeth fit together — but you don't like the idea of wearing braces — clear aligners may be your best solution. How much do you know about this teeth-straightening alternative? Below are some FAQs on the subject.
What do we mean by clear aligners? Clear aligners are a system for straightening teeth that uses clear plastic removable "trays" that fit over your teeth. As the teeth move to fit the trays, new trays are substituted that are designed to continue to move your teeth into the desired position. This system is an alternative to the traditional system of brackets and wires known as braces.
How can teeth be moved to new positions? The connection that holds a tooth in place in your jaws — the periodontal ligament — is not immobile. It constantly changes its position based on the normal forces of your bite. As the ligament is pushed on one side and pulled on the other, the living cells of your mouth respond by depositing bone and cementum (the protective covering of the tooth's root) on one side and dissolving it on the other. Normally this happens in a balance, maintaining your teeth in their position. We can manage these slight changes by applying constant light forces to move teeth in a predictable way.
How long does it take to move teeth to their optimum position using clear aligners? As with braces, the process is gradual. Total treatment time can range from six months to two years.
Do the trays have to be worn all the time? As you move through the sequence of trays, each is worn for 20 hours per day for two weeks. They may occasionally be removed for important social occasions.
How does an orthodontist design the sequential trays that are used? The trays are designed using a computer, based on an assessment and images of your mouth, teeth and jaws.
What kinds of problems can clear aligners correct? This method works well to correct mild to moderate crowding or spacing. If your back teeth already fit together as they should, the system may be ideal. If you have an extreme overbite or underbite, braces might work better.
Are clear aligners an alternative for everyone? Clear aligners are recommended for adults and recently, teenagers. They are not usually recommended for young children.
Why is it important to have your teeth straightened? Besides the obvious benefit of feeling better about yourself and your appearance, straight and well-aligned teeth work better. You will experience a better-functioning bite and can improve your oral health.
Contact us today to schedule an appointment to discuss your questions about orthodontics and clear aligners. You can also learn more by reading the Dear Doctor magazine articles "Clear Orthodontic Aligners" and "Moving Teeth With Orthodontics."