Posts for tag: orthodontic treatment
By George Mui, DDS, Ltd. Gentle Dental Care
January 27, 2019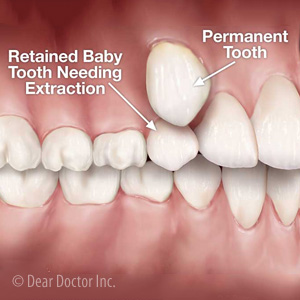 The primary goal of dental care is to preserve teeth. But there are circumstances in which removing a tooth, even a relatively healthy one, could prove best in the long run.
A malocclusion (poor bite) related to crowding might fit such a circumstance. Crowding occurs when the size of the jaw is too small for the teeth coming in. With not enough space, some teeth could erupt out of their proper positions. Removing certain teeth frees up space to eventually allow braces or other orthodontic devices to re-align the teeth.
The teeth most frequently removed are the first bicuspids, located between the cuspid (the "eyeteeth" directly under the eyes) and the back teeth, and the second premolar. Removing these won't normally affect appearance or functionality once orthodontic or cosmetic treatments are complete.
Because of the mechanics of jaw development it might be necessary to perform these extractions several years before orthodontic treatment. This could create another potential problem: the time lag could adversely affect bone health.
This is because bone, as living tissue, has a life cycle with cells forming, functioning and then dissolving, and new cells taking their place. When teeth are chewing or in contact with each other they generate force that travels through the tooth roots to the bone and stimulates cell growth at a healthy replacement rate.
But when a tooth is missing, so is this stimulation. This slows the replacement rate and eventually leads to decreased bone volume. Too much bone loss could create obstacles for orthodontic treatment or a future dental implant.
To avoid this, the dentist will often place a bone graft with processed bone mineral within the empty tooth socket right after extraction. The graft serves as a scaffold for bone cells to grow upon. The graft (plus any other added growth boosters) can help maintain a healthy level of bone volume to facilitate future orthodontic or restorative treatments.
Since targeted extraction for orthodontics is time-sensitive, you should have your child's bite evaluated by an orthodontist by age 7 to see if any action is necessary. The earlier a malocclusion is detected, the more likely a more attractive and healthy smile will be the ultimate outcome.
If you would like more information on correcting poor bites, please contact us or schedule an appointment for a consultation. You can also learn more about this topic by reading the Dear Doctor magazine article "Tooth Removal for Orthodontic Reasons."
By George Mui, DDS, Ltd. Gentle Dental Care
June 06, 2018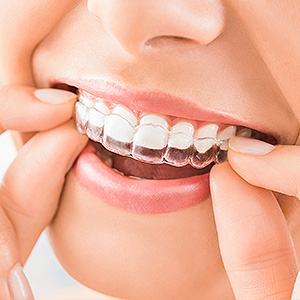 If your teenager is in need of orthodontic treatment, you might automatically think braces. But while this decades-old appliance is quite effective, it isn't the only "tooth movement" game in town any more. Clear aligners are another choice your teenager might find more appealing.
Clear aligners are a sequential set of computer-generated plastic trays that are worn by a patient one after the other, usually for about two weeks per tray. The trays are fabricated using 3-D computer modeling of the patient's mouth, each one slightly different from the last to gradually move teeth to the desired new positions.
So, why choose clear aligners over braces?
They're nearly invisible. Because they're made of a clear polymer material, they're not nearly as noticeable as metal braces. In fact, they may go completely unnoticed to the casual observer.
They're removable. Unlike metal braces, which are fixed in place by an orthodontist, clear aligners can be removed by the wearer. This makes brushing and flossing much easier, and they can also be removed for eating or special occasions. That said, though, they should be worn at least 20 to 22 hours each day to be effective.
They're becoming more versatile. With some complicated malocclusions (poor bites), braces and other orthodontic appliances may still be necessary. But innovations like added power ridges in clear aligners can more precisely control which teeth move and which don't. This has greatly increased the number of poor bite scenarios where we can appropriately use clear aligners.
If you'd like to consider clear aligners, just remember they require a bit more self-discipline on the part of the wearer than braces. And once the treatment finishes, they'll still need to wear a retainer just as with metal braces to help keep the repositioned teeth from reverting to their old positions.
If you think your teen is up to the challenge and their particular situation can be corrected with this innovative technology, then clear aligners could be a great choice.
If you would like more information on clear aligners orthodontic treatment, please contact us or schedule an appointment for a consultation. You can also learn more about this topic by reading the Dear Doctor magazine article "Clear Aligners for Teens."
By George Mui, DDS, Ltd. Gentle Dental Care
December 16, 2016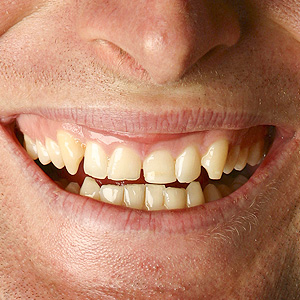 When planning for your new smile, we look at more than the condition of individual teeth. We also step back for the bigger "bite" picture: how do the teeth look and interact with each other?
If we have a normal bite, our teeth are aligned symmetrically with each other. This not only looks aesthetically pleasing with the rest of the face, it also contributes to good function when we chew food. A bad bite (malocclusion) disrupts this mouth-to-face symmetry, impairs chewing and makes hygiene and disease prevention much more difficult.
That's where orthodontics, the dental specialty for moving teeth, can work wonders. With today's advanced techniques, we can correct even the most complex malocclusions — and at any age. Even if your teen years are well behind you, repairing a bad bite can improve both your smile and your dental health.
The most common approach, of course, is braces. They consist of metal or plastic brackets bonded to the outside face of the teeth with a thin metal wire laced through them. The wire attaches to an anchorage point, the back teeth or one created with other appliances, and placed under tension or pressure. The gradual increasing of tension or pressure on the teeth will move them over time.
 Braces are versatile and quite effective, but they can be restrictive and highly noticeable. Many people, especially older adults, feel embarrassed to wear them. There is an alternative: clear aligners. These are a series of clear, plastic trays that you wear in sequence, a couple of weeks for each tray. When you change to the next tray in the series, it will be slightly different than its predecessor. As the trays change shape guided by computer-enhanced modeling, the teeth gradually move.
If you're interested in having a poor bite corrected, the first step is a comprehensive orthodontic examination. This looks closely at not only teeth position, but also jaw function and overall oral and general health.
With that we can help you decide if orthodontics is right for you. If so, we'll formulate a treatment plan that can transform your smile and boost your dental health.
If you would like more information on the cosmetic and health benefits of orthodontics, please contact us or schedule an appointment for a consultation. You can also learn more about this topic by reading the Dear Doctor magazine article "The Magic of Orthodontics."